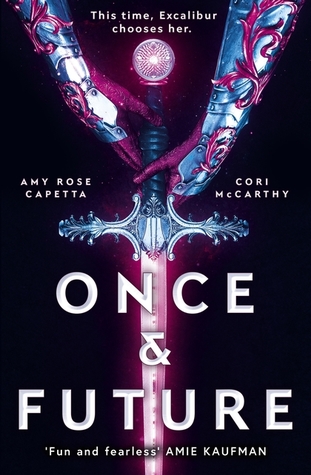 Title: Once & Future
Author(s): Amy Rose Capetta & Cori McCarthy
Series: Once & Future #1
Genre: Young Adult, Science Fiction, Retelling
Pages: 368
Published: March 26th 2019
LGBTQAI+: main F/F relationship, main M/M relationship, nonbinary side character, ace side character, and more. trans/nonbinary authors.
I've been chased my whole life. As a fugitive refugee in the territory controlled by the tyrannical Mercer corporation, I've always had to hide who I am. Until I found Excalibur.

Now I'm done hiding.

My name is Ari Helix. I have a magic sword, a cranky wizard, and a revolution to start.

When Ari crash-lands on Old Earth and pulls a magic sword from its ancient resting place, she is revealed to be the newest reincarnation of King Arthur. Then she meets Merlin, who has aged backward over the centuries into a teenager, and together they must break the curse that keeps Arthur coming back. Their quest? Defeat the cruel, oppressive government and bring peace and equality to all humankind.

No pressure.
4 stars
"I, um, come from a society with a history of gender assumptions based on physical markers, aesthetics, et cetera."
"Ew," Ari said.
"That's wicked sad," Kay added.
Merlin, at least, looked deeply ashamed. "You have no idea."
I… don't know what happened to me halfway through this book.
It started out brilliant, and sucked me in almost immediately. An adopted queer teenage girl with Arabic background, a gay wizard who ages backwards and uses songs to do magic, both of them being in same gender relationships, a nonbinary side character, an ace side character, same-gender adoptive parents, and a wonderfully diverse cast in terms of both race and sexuality. A fresh, beautiful take on Arthurian myths that somehow mixes both the past and the future, reenacting the myths of old, but in space. Also, the big bad tyrannical empire this time is not actually a government, but a corporation, and if that isn't relevant then I don't know what is.
I absolutely loved Merlin and his memories of all the Arthurs, the feeling that this is really an unending cycle, that they are all so different and yet still have the same soul, the same story, the same end.
So why did the second half leave me uninterested and kind of disenchanted? I really have no idea, but somewhere around the one-year timeskip I felt myself losing interest and becoming numb to the twists.
It might have had to do something with the character deaths (not telling you who, obviously, but damn I didn't like that), or the fact that these apparent teenagers are going around having sex, getting married, and having literal babies. Not that those things don't happen to teenagers, but it's far from the norm, and just in general, this felt like it should have been a New Adult novel. We already have so few of those, so the missed opportunity made me kind of bitter.
I also feel like there might have been a symbolic reason behind Ari, Val, Lam and Kay all having names with three letters, but having the last three be so similar was indeed kind of annoying. I wondered why Percival couldn't have been Percy or Perce or something instead. This is just a minor pet peeve, but still.
I am both scared and intrigued by the hints we have for the sequel (you, because you've never imagined it, and you because you believed you'd escaped it), and duologies are my favourite format that are also rarer than I like, so I'm still excited about next year.
NOTES:
– This should definitely have a content warning for genocide of a non-white people.
– The ace side character is only referred to as ace, but the way she describes it implies she's supposed to be aro as well.
– There seem to be three recognised nonbinary genders in this world, referred to as "fluid", "set" and "non". This was a little strange, but not necessarily bad.
~ Alexa