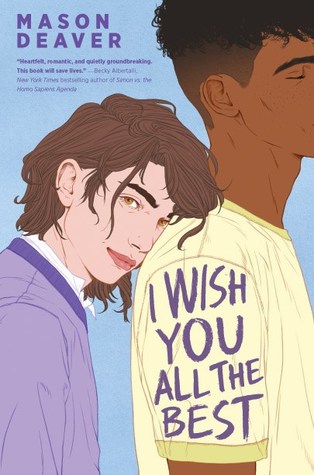 Title: I Wish You All The Best
Author(s): Mason Deaver
Series: –
Genre: Young Adult, Contemporary, Romance
Pages: 336
Published: May 14th 2019 by Push
LGBTQAI+: bisexual nonbinary teen protagonist, bisexual dark-skinned (unspecified) cis male love interest, nonbinary side character, nonbinary author
When Ben De Backer comes out to their parents as nonbinary, they're thrown out of their house and forced to move in with their estranged older sister, Hannah, and her husband, Thomas, whom Ben has never even met. Struggling with an anxiety disorder compounded by their parents' rejection, they come out only to Hannah, Thomas, and their therapist and try to keep a low profile in a new school.

But Ben's attempts to survive the last half of senior year unnoticed are thwarted when Nathan Allan, a funny and charismatic student, decides to take Ben under his wing. As Ben and Nathan's friendship grows, their feelings for each other begin to change, and what started as a disastrous turn of events looks like it might just be a chance to start a happier new life.

At turns heartbreaking and joyous, I Wish You All the Best is both a celebration of life, friendship, and love, and a shining example of hope in the face of adversity.
4.5 stars
[ source: pre-ordered with my own money ]
I Wish You All The Best is the story of a nonbinary teen with anxiety who gets kicked out of home by their parents after coming out. The coming out scene is in the first chapter, so the book starts with a pretty big punch. Ben moves in with their sister and brother-in-law, who are both supportive, and they make new friends and continue making their art at school. Oh, yes, and there is a boy.
I loved Nathan, he was funny and bright and supportive, and I also liked the two girl side characters, although they didn't feature as much. I also loved that Ben has a nonbinary long-distance friend (who is older than them, although I'm not sure by how much) who has helped them as both a best friend and a kind of "mentor".
Ben goes to a therapist and takes anxiety medication, and while they are unsure about it at first, it's ultimately presented as a positive thing, so that was nice.
Still, this is another one of those queer books that I expected to be fluffy based on the cover and title, and it's… not really? It has a happy ending and a cute romance, but it also has shitty parents, anxiety, panic attacks, conflict with the sibling, and I feel like there was more of that than the fluff.
Ben comes out to Nathan really, really late in the story. Of course, you as the reader logically know that Nathan won't react badly, but it's strange to see them grow closer and have a crush and everything while Nathan doesn't know such a defining thing about them, and keeps unintentionally misgendering them. It is understandable based on Ben's bad experiences, but it still surprised me.
I also wished there was some more about what being nonbinary means for Ben. It was nice that it wasn't the only focus and they had other interests, but there was more about the negative consequences of coming out than the positive, affirming sides of being nonbinary, which I really missed. I loved the small scenes like Ben choosing to have their sister paint their nails, and I would have loved more.
tldr; This is a really good and important debut (!) book about a nonbinary teen, and it has a happy ending with a supportive circle. However, it's not as fluffy as I expected, and it fell a little short of my expectations in other ways too. That's just me, though.
content warnings: asshole parents, being kicked out, stressful coming out situation, anxiety, panic attacks, misgendering (both intentional, and due to not being out)
EXTRA WARNING: There is a scene where Ben goes to a party and they are pressured into drinking even though they really don't want to, one of the guy's is being loud and I think actually slaps their butt, and then they have a panic attack, so yeah, it was a lot.
~ Alexa