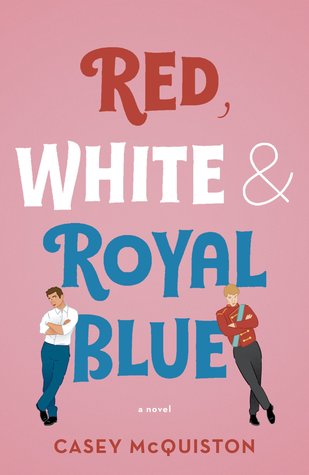 Title: Red, White & Royal Blue
Author(s): Casey McQuiston
Series: –
Genre: New Adult, Contemporary Romance
Pages: 432
Published: May 14th 2019 by St. Martin's Griffin
LGBTQAI+: bisexual & gay male leads; bi, gay, trans and pansexual side characters
Other representation: biracial Mexican/white lead, Latino side characters
I received an ARC through NetGalley in exchange for an honest review.
A big-hearted romantic comedy in which First Son Alex falls in love with Prince Henry of Wales after an incident of international proportions forces them to pretend to be best friends…

First Son Alex Claremont-Diaz is the closest thing to a prince this side of the Atlantic. With his intrepid sister and the Veep's genius granddaughter, they're the White House Trio, a beautiful millennial marketing strategy for his mother, President Ellen Claremont. International socialite duties do have downsides—namely, when photos of a confrontation with his longtime nemesis Prince Henry at a royal wedding leak to the tabloids and threaten American/British relations.

The plan for damage control: staging a fake friendship between the First Son and the Prince. Alex is busy enough handling his mother's bloodthirsty opponents and his own political ambitions without an uptight royal slowing him down. But beneath Henry's Prince Charming veneer, there's a soft-hearted eccentric with a dry sense of humor and more than one ghost haunting him.

As President Claremont kicks off her reelection bid, Alex finds himself hurtling into a secret relationship with Henry that could derail the campaign and upend two nations. And Henry throws everything into question for Alex, an impulsive, charming guy who thought he knew everything: What is worth the sacrifice? How do you do all the good you can do? And, most importantly, how will history remember you?
5 (thousand) stars
There was so much goodness in this book, I barely know where to start.
Red, White & Royal Blue is written from the perspective of Alex, the biracial son of the first female president of the United States. His parents are divorced, but his Mexican father is still a supportive presence in his life. Along with his older sister and their bisexual friend Nora, they form the White House Trio. And of course, there's Prince Henry – grandson of the Queen of England, who has been Alex's rival for years, and he's all boring and white and not handsome or cute, not at all, not even a little bit.
Henry and Alex go from rivals to forced friends to real friends to secret lovers, separated by an ocean, as well as the expectations of their families and their entire countries. Through long-distance calls, pop culture references, quotes from love letters by historical figures and a painting of Alexander Hamilton, this romance is one history will remember.
Interwoven with the romance, there is also heavy criticism of British imperialism, corrupt and predatory politicans, racism and homophobia in history, the price of trying to keep a traditional image, and more. Henry and Alex are surrounded by families and friends who love their respective countries and wish to see them flourish, but without ignoring the bigotry in their past and present.
Also: give me more New Adult fiction with 20-something protagonists!
In short, this book is easily one of my favourite reads this year.
~ Alexa